Blogging On Demotic CMS (Part I)

 Blogging is a lot more common now and mainstream. Once upon a time you had to join a blogging platform like Blogger to post your thoughts but with the advent of FOSS blogging scripts anyone can do it. Demotic comes with a blogging engine right out of the box. This is a short tutorial on how to set up a blog using it.

1. INSTALL THE SOFTWARE
This really should be a no-brainer. Start by downloading it. Make sure your server has the right prerequisites.

2. CREATE YOUR FIRST STATIC BLOG PAGE
OK. Once you install Demotic CMS it will create a static "Blog" page for you under the "Main Menu" section. This is visible on your admin section by navigating to the "Pages" section from the sidebar.



3. CREATE YOUR FIRST BLOG POST
Now this is also set during installation. A sample category called "Blog Posts" with a sample blog post called "First Blog Post". 

The "Blog" section is closely similar to the "Pages" section but it only deals with blogging. The "Blog Posts" link is actually a menu underneath the hood but it acts as a post category in Demotic.

You can create as many post categories/blog menus to your hearts desire.

4. CREATING YOUR FIRST BLOG LIST
Now this is the point where we'll see the power of Demotic CMS' drag-and-drop functionality. Go back to the "Pages" section, click on "Blog" then click the "Edit Content" button.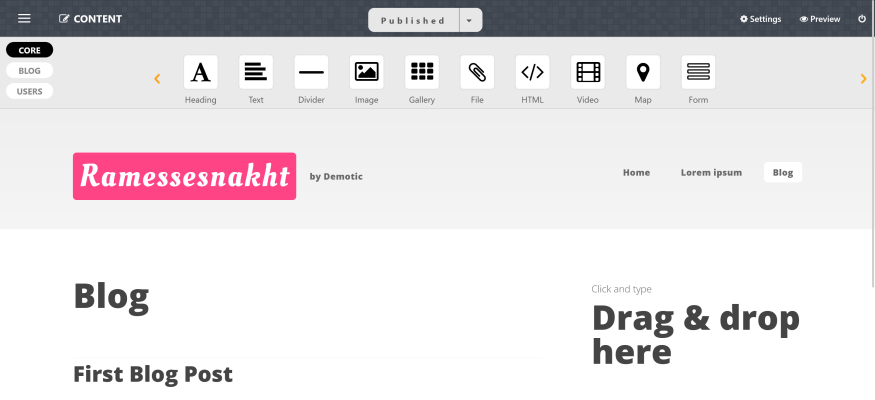 This will bring up the "Blog" page as it looks but with editable sections where you can drop Demotic widgets.

At the top is the Admin Panel. Click on the "Blog" button on the panel to reveal the "Blog" widgets. 

Drag the "Blog List Widget" to the main body and drop it to the place you would like. Once you drop it a popup will appear. Select the blog options you would like then save the page by clicking on the "Publish" button. Your first blog has been created.

You can proceed to add more blog posts in your admin section under the "Blog Posts" category and all will appear listed here.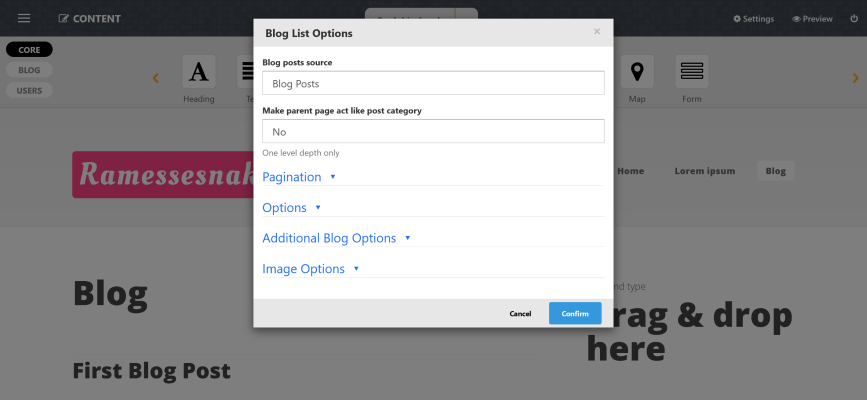 Next post I will show you how to create multiple blogs using this approach. It's more like a trick but who doesn't like tricks :-D...